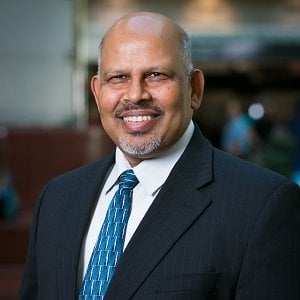 Balram Bheodari
Airport General Manager
As leader of the nation's busiest and most efficient airport, Mr. Bheodari oversees all facets of Airport governance, including operations and a multibillion-dollar capital improvement program designed to pave the way for Atlanta's growth over the next 20 years.
Focused strategic planning, a comprehensive safety and security platform and a full-bodied customer experience program are his priorities, in addition to completing the ATL's critical capital program on schedule and within budget.
Mr. Bheodari is a retired Army aviator whose leadership as deputy general manager for Operations navigated ATL through the most challenging period of the COVID-19 pandemic, from drawdown to resumption of its expansive operations.
Mayor Keisha Lance Bottoms appointed him interim general manager in April 2021 with the charge to effectively lead the Airport team through a period of transition.
Mr. Bheodari has an extensive career in aviation executive management.  He rejoined the ATL leadership team in 2016 after serving as the chief operating officer for the Houston Airport System (HAS).  There he led strategic and business plan development, business process re-engineering, technologically complex project implementation, infrastructure programs and airport operations.
ATL is home to Mr. Bheodari. Before joining HAS, he served more than three years as ATL's deputy general manager.  In that role, he managed an annual operating budget of more than $170 million and a capital budget of more than $300 million.  Prior to being named deputy general manager, Mr. Bheodari served as deputy assistant general manager for Operations, Maintenance and Security, after working his way through the ranks of the organization.
In early 2009, Mr. Bheodari commissioned ATL's first Operational Readiness and Transition (ORAT) team, which developed and implemented the activation plan for a consolidated Rental Car Center and the ATL SkyTrain automated people mover. Two years later, he expanded the ORAT team and spearheaded the opening of the 1.2-million-square-foot Maynard H. Jackson Jr. International Terminal, which accommodated more than 12 million international travelers each year prior to the pandemic.
Mr. Bheodari holds the American Association of Airport Executives' Accredited Airport Executive (AAE) designation.  Additionally, he has earned the International Airport Professional (IAP) accreditation from the Airports Council International and the International Civil Aviation Organization.
Mr. Bheodari graduated from Troy University with a Bachelor of Science in aviation management. He also completed the Emory University Executive Education Management Leadership and Development Programs. He retired from the U.S. Army with 22 years of active military service in the aviation branch as an instrument-rated aviator.