Demands for accommodations and updated services in close proximity to the airport have grown in recent years. Increased convention and business activity is driving the development, which will include a 4-star hotel, a mixed-use development with office space, and a travel plaza.
Overview
ATL will pave the way for a 4-star hotel; a mixed-use development on 13 acres with an initial 60,000 square feet of office space; and a travel plaza on 2.8 acres that will feature a convenience store, fueling station, and service center. The facilities will be situated west and southwest of the domestic terminal on land currently occupied by the West Economy Parking Lot, former rental car facilities, and the taxicab staging area.
Project Timeline
The venture is slated to start in 2017. A more detailed timeline will be available here in early 2017.
Benefits
The hotel and travel plaza will diversify the Airport's revenue stream and attract a different type of activity to Hartsfield-Jackson and the south side of Atlanta. The facility is designed to be compatible with ATL operations and to minimize aircraft noise.
Impacts During Construction
This project will be happening in conjunction with the redesign and development of new parking lots at the domestic terminal. During this transition, there will be changes in traffic flow and parking availability; visitors will be provided with regular updates on these developments as they progress.
News about Hotel & Travel Plaza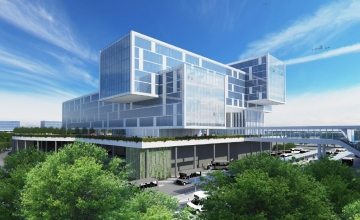 Mixed-Use Lease Finalized, Four-Star Hotel to be Built ATL has officially announced the approval of a ground lease to build ATLNext's third-party development in partnership with Majestic Realty Co. and Carter. Phase I of the development will consist of an 11-story, 440-room, four-star hotel with 80,000 feet of meeting space and an additional 60,000 square … Continue →