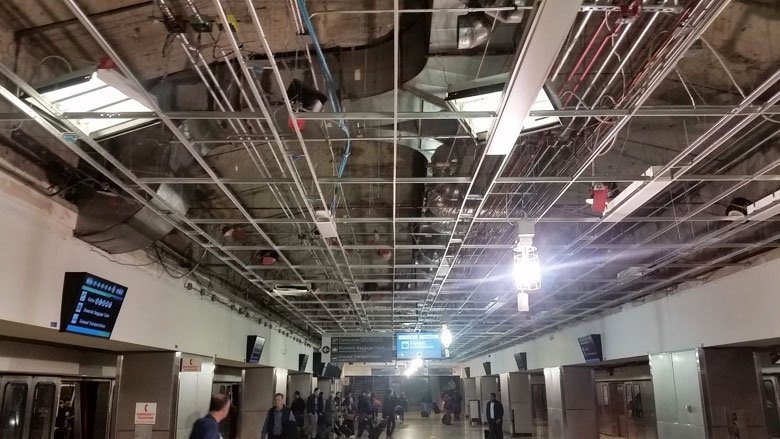 When traveling through ATL, have you noticed the gutted ceilings in the transportation mall between concourses? When you step off the Plane Train, you may find the visual a bit unsightly, but give us a little time and soon you will behold a newly renovated look.
The Airside Modernization Project will revamp and modernize the ceilings, tunnel and signage in the transportation mall. What is noticeable now is the demolition of the existing ceilings. The good news is that demolition is nearly complete throughout the entire transportation mall. So too are the mechanical and electrical portions of the renovation.
The renovation began in the E station and transportation mall between Concourses D and E. There, framework was installed in both sections, and the first mock-ups are in process for approval. The renovation will give a modern feel and brighter look to the expansive area.
In addition, we will install new wayfinding signage. Temporary signs of the new look have been installed in the E station. Updated corridor and gate signage will be installed in T Concourse at Gates T1 and T2 the week of Jan. 30.
While traveling through this portion of the terminal, you may observe the less appealing aspect of construction, but bear with us while we implement innovation to build you a better Airport!