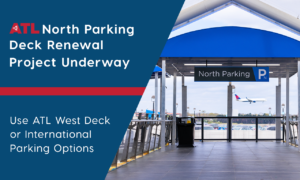 Please be advised that the Parking Deck Renewal Project at Hartsfield-Jackson is underway. Portions of the lower level of the North deck have now been closed and traffic impacts are expected. Shoring will occur in phases; deck level closures and traffic impacts will change as the project continues. As the Parking Deck Renewal Project prepares to enter Phase 2 of shoring activity, please allow extra time to arrive; consider ATLWest deck and South parking for efficient parking options.
All North lower-level lanes will be closed for 72 hours beginning March 27 at 10 p.m. and ending March 30 at 10 p.m. During this time, off airport shuttles and Greyhound pickups have relocated to the outer curb of the North upper-level roadway. Drivers will be directed to the North upper roadway for all drop-offs and pickups.
Phase 2 begins March 31 and all North Parking Deck shoring is scheduled to be completed June 2.
The full replacement of both North and South parking decks will take place in coming years as part of ATLNext, the Airport's multibillion-dollar capital improvement program. Thank you for your patience as we make upgrades to our parking facilities.
As a reminder, green-coated ATL Customer Service Representatives are always available to provide answers, directions, and tips for travelers.