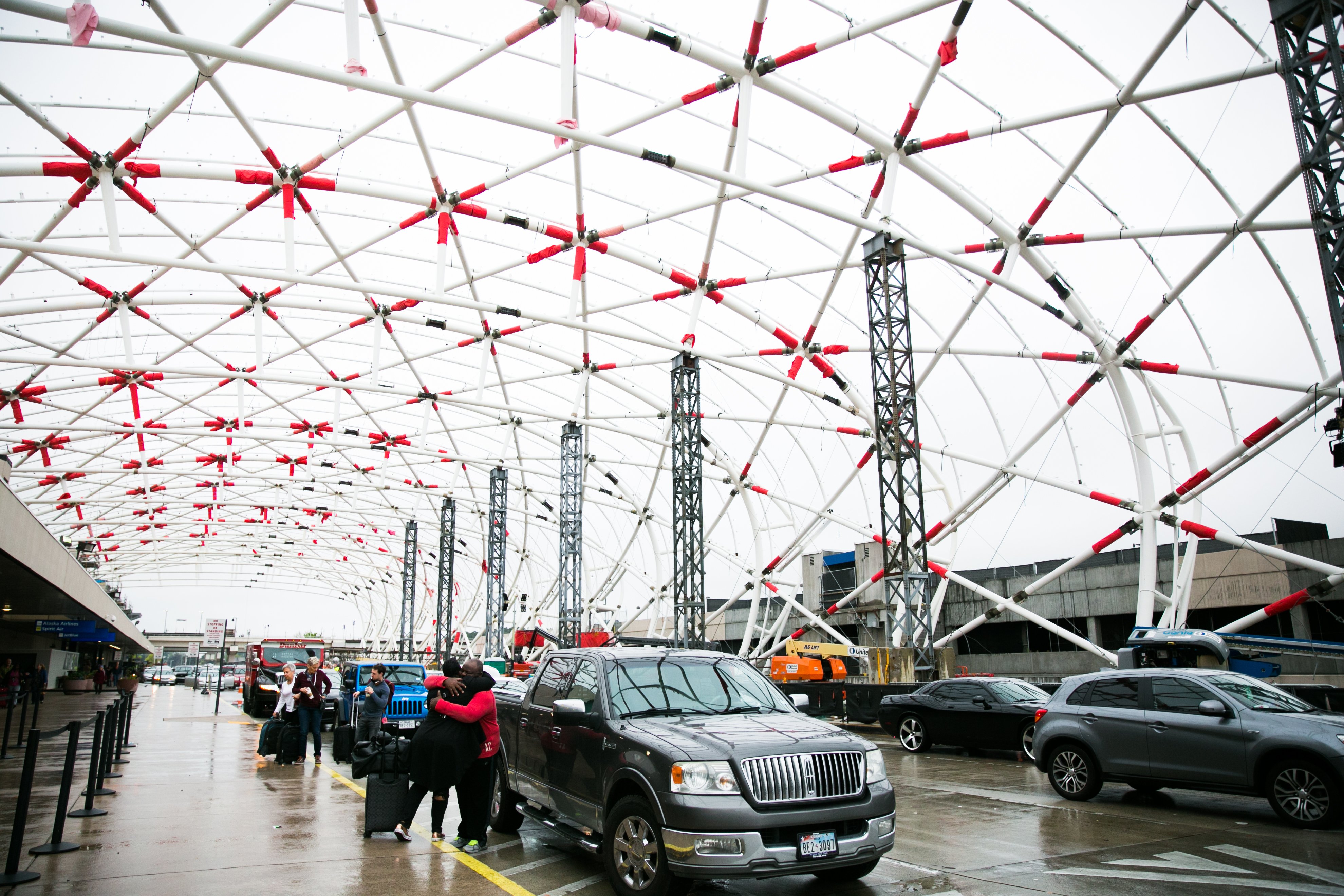 Enhancements to the world's busiest and most efficient airport are happening 24/7 as Hartsfield-Jackson's multibillion-dollar capital improvement program continues. Read below for activity updates on several ATLNext projects.
Canopy – North
All structural steel for the North canopy has been erected.
The canopy covering in the first bay is planned to start right after Memorial Day.
Demolition and reconstruction of the N1 vestibule will take place from June 7 to Nov. 14. The N1 vestibule and a portion of the curb sidewalk from N1 to N2 will close.
Canopy – South
A portion of the curb sidewalk from S2 to S3 will remain closed through June 30 to allow for construction of a temporary vestibule.
Demolition and reconstruction of the S3 vestibule continues through Oct. 31. The S3 vestibule and a portion of the curb sidewalk from S3 to S4 will be closed.
The new Delta Sky Cap and full-service check-in location on the lower level opened on May 23.  The opening of these new locations will allow for the demolition of previous operations to allow for the construction of additional piers.
Domestic Terminal
To create a more modern look, the Domestic Terminal façade and vestibules are being remodeled. Upgrades will include a combination of light and dark gray aluminum panels, white-backed glass panels as well as clear glass installation near the top of the building. All existing glass will be replaced with insulated glass for increased energy efficiency. The upgrade work, which started at S3 in May, will continue through spring 2020.
Concourses T-South, A and C have been modernized with new holdrooms, LED lighting and elevated ceilings. Concourse B is expected to be completed in September.
ATL West parking deck
Construction teams are performing earthwork and deep foundation activities. Completion of the deck is scheduled for April 2020.
T-North extension
ATL Park-Ride lot is expected to close in July to make way for the new Delta ground service equipment facility, which will relocate from the T-North extension zone.
Cargo Building C
Construction is complete. A final decision on a leasing partner is expected by late summer.
Cargo Buildings 2A and 2B
Site preparation begins for two new cargo buildings and a cargo ramp. Scope includes relocation of Sullivan and internal Airport roads, demolition of existing facilities, and construction of a new police K-9 facility and DOA maintenance shop for HVAC, electrical, painting and carpentry operations. Several FAA equipment facilities will also relocate, including the West remote transmitter, weather station and low-level wind shear alert system. Work is underway to install new fuel systems, demolish Gate Gourmet, and install drainage and other utilities in support of road construction. Scheduling should begin by summer.