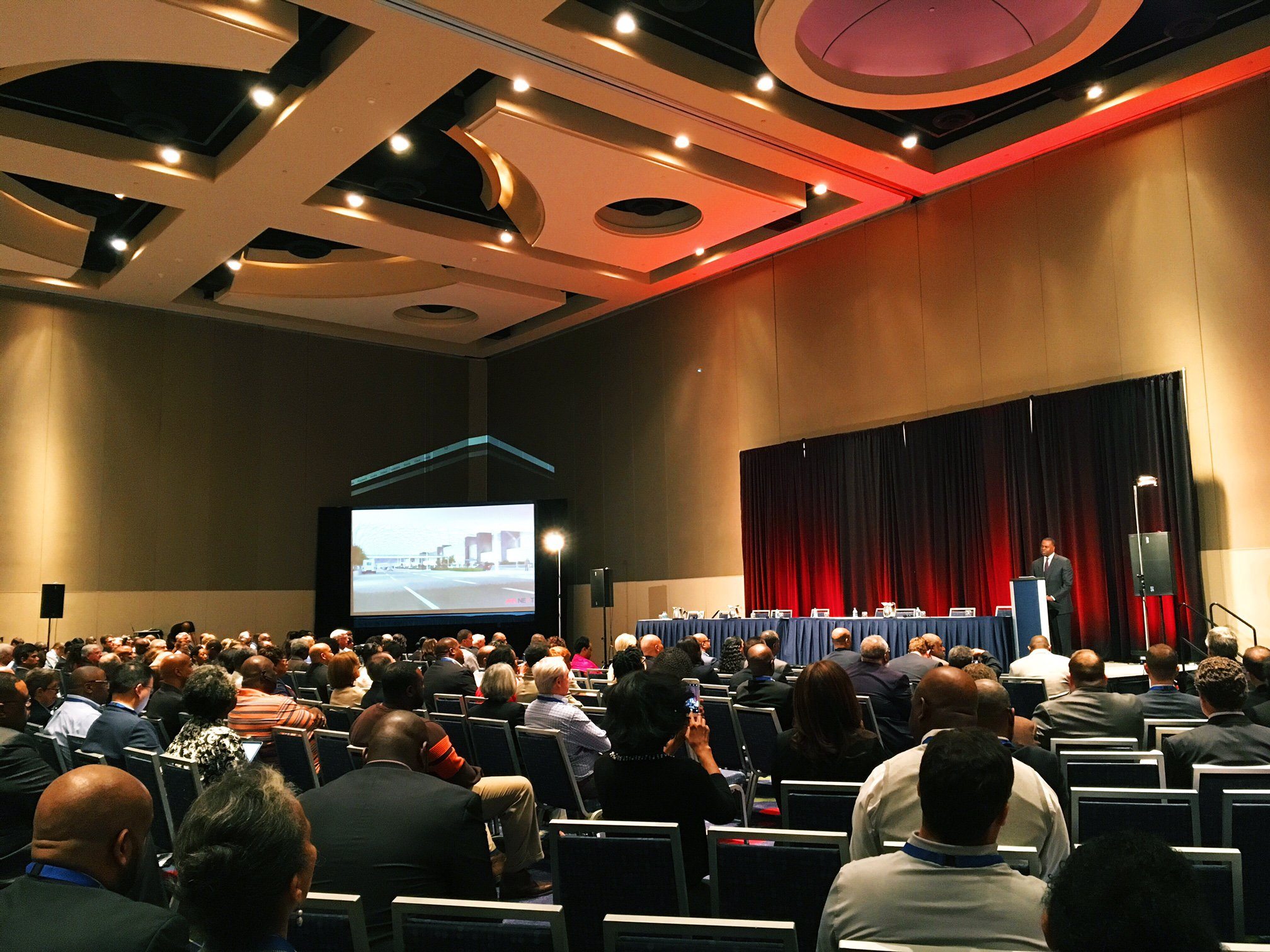 ATL hosted its annual event to share with and gain from the business community on Tuesday, March 7, 2017, encouraging diversity and participation among contractors.
Since the inception of ATLNext, Airport leaders established ATLNext Industry Day to educate contractors about business opportunities and the procurement process.
The event, held 8 a.m. – 5 p.m. at the Georgia International Convention Center, promised to "provide the information businesses require and transparency we demand to facilitate ongoing growth at Hartsfield-Jackson," Atlanta Mayor Kasim Reed said.
Airport General Manager Roosevelt Council, Jr. welcomed attendees and encouraged networking and information gathering during the event, which hosted experts, businesses and vendors who have or are currently doing business with the Airport, or wish to do so.
With the theme, "When Preparation Meets Opportunity," ATLNext Industry Day provided breakout sessions, panel discussions and a networking expo, specifically about ATLNext. The capital improvement program includes plans to modernize the Domestic Terminal, expand cargo operations, construct a new concourse and build another, replace two parking facilities, and build a 4-star hotel and mixed-use development.
Planning & Development Assistant General Manager Frank Rucker, who served as the luncheon's keynote speaker, underscored the need to support inclusion and access for minority and women-owned businesses.
"As ATLNext modernizes and updates the Airport, the participation of businesses will not only serve as a financial boost to local, state and regional economies, but it will also provide a platform to train the next generation of leaders in the construction industry," Rucker said. "ATL is committed to securing a level playing field for those who are interested and eligible to compete in the contracting market."
The event offered two tracks to provide insight from two business perspectives: the Airport's and the contractor's. P&D Assistant Director of Project Development Kathy Masters moderated a discussion with current prime and MWBE contractors as they offered experiences and best practices. Planning & Environmental Director Tom Nissalke moderated "The Airport's Perspective," which shared requirements in the areas of safety, contract administration and management.
More than 20 companies were on hand during the networking expo in the afternoon. Participating exhibitors included the Georgia Department of Transportation, Turner Construction Co., ARS Mechanical, LLC and joint venture Holder-Austin-Moody-Bryson.
The event's organizers, DOA Diversity Officer Valerie Nesbitt and Director of Supplier Diversity Joe Jackson, expect to exceed last year's attendance of nearly 400 based on the unique opportunity for businesses, vendors and City agencies to interact all at one location.
"This conference is important to us because it allows us to showcase upcoming projects and procurement opportunities associated with our capital improvement program to small, minority and women-owned businesses," Nesbitt said. "It's our way of preparing them in advance to ensure that such businesses are ready to do work at the Airport."