Project Areas
AIR CARGO DEVELOPMENT
ADDING ONE MILLION SQUARE FEET OF WAREHOUSE SPACE
Air cargo is a fertile source of employment and economic opportunity for metro Atlanta. To support this burgeoning business, the Airport has been expanding its cargo operations. In 2015, ATL handled more than 626,000 metric tons of cargo, growing cargo volume 4.15 percent over 2014. Also in 2015, four new all-cargo airlines began operations at ATL, and plans are in the works for additional carriers to begin service this year. To accommodate this growth, ATL will undergo a phased expansion of facilities, with a goal of adding up to 1 million square feet of warehouse space. At the same time, ATL will construct a vehicle staging area to relieve cargo truck congestion. The work is expected to total more than $200 million.
TIMELINE BREAKDOWN
Cargo Buildings 2A/2B: 2017-2019
Cargo Building 1: 2017-2021
[/icon_box]
THIRD PARTY DEVELOPMENT
HOTEL & TRAVEL PLAZA
The Airport will pave the way for a 4-star hotel; a mixed-use development on 13 acres with an initial 60,000 square feet of office space; and a travel plaza on 2.8 acres featuring a convenience store, fueling station and service center. The venture, expected to start in 2017 and estimated at more than $350 million, is intended to diversify the Airport's revenue stream and attract a different type of activity to Hartsfield-Jackson and the south side of Atlanta, one compatible with ATL operations and aircraft noise. The facilities would be situated west and southwest of the Domestic Terminal on land currently occupied by the West Economy Parking Lot, former rental car facilities and the taxicab staging area.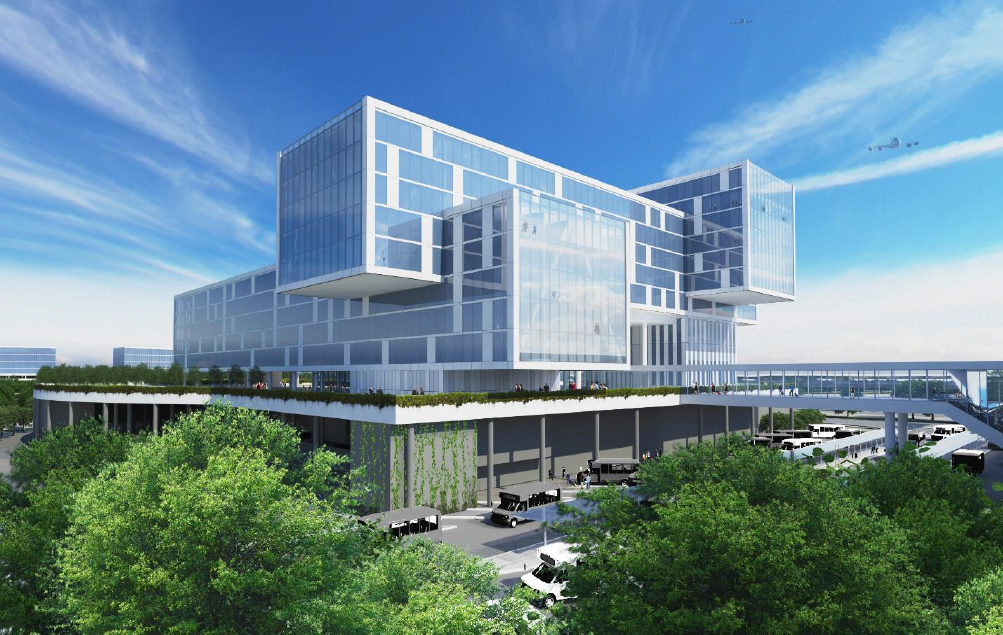 AIRSIDE
The airfield consists of runways, taxiways, apron areas, deicing pads, navigational aids, non-licensed vehicle roads and support facilities. The Airport has five parallel runways. Runway 10-28, the newest runway, was completed in 2006 and has significantly increased arrival capacity. But as customer demand continues to grow, ATL's capacity will be put to the test. To ensure efficiency in Airport operations while providing world-class customer service in the coming years, Hartsfield-Jackson will add a sixth runway, create two new end-around taxiways and make other improvements. The work is expected to total more than $1.3 billion.
TIMELINE BREAKDOWN
Taxiway/runway pavement replacement: 2017-2018
Runway 9L End-around taxiway: 2017-2021
Runway pavement replacement: 2021-2023
Other airfield renewal/replacement: 2016-2035
Sixth runway: 2023-2034
[/icon_box]
CENTRAL PASSENGER TERMINAL COMPLEX
The Central Passenger Terminal Complex (CPTC) consists of two independent processing facilities for domestic and international passengers, with associated gates and seven concourses. Revamping the domestic complex will enhance the customer experience while boosting the facilities' aesthetic appeal. In the Domestic Terminal, plans call for incorporating engineered trees and other foliage for a park-like feel and building giant canopies over the upper roadway curbside pick-up and drop-off areas to protect guests from the elements. Renovations on Concourses T South, A, B and C include elevating and slanting the ceilings and adding glass to allow for the introduction of more natural light and the creation of a more open feel. In addition, the Airport will construct Concourse G, which will include 10 gates and be connected to the International Terminal, as well as extend Concourse T to include up to five additional gates. Additionally ATL's Plane Train will be extended to the east to serve Concourse G and to the west to create an improved train turnback that will increase the efficiency of the train system. Here's a timeline breakdown, with work expected to total more than $1.9 billion.
TIMELINE BREAKDOWN
Terminal modernization: 2016-2019
Concourse T extension: 2017-2022
Concourse G: 2017-2027
[/icon_box]
PARKING DECKS / FACILITIES
The North and South parking decks currently fill to capacity at some point during more than six months each year. Increasing demand, combined with deteriorating conditions of the decks, requires replacing these aging facilities with three new decks. To minimize disruption and loss of parking spaces and revenue, the Airport will phase in construction of the decks and create a new Park-Ride lot on Sullivan Road. A new ATL West parking deck will be constructed first. This deck, adjacent to the SkyTrain Gateway station next to the Georgia International Convention Center, is connected to the Airport via a 2-minute ride on the SkyTrain. The new Park-Ride lot on Sullivan Road will provide 1,000 additional parking spaces for customers. The domestic terminal North and South decks rising 4-8 levels each will be constructed following the completion of the new ATL West Deck and the Sullivan Road lot.
TIMELINE BREAKDOWN
ATL West parking deck: 2017-2019
Sullivan Road Park-Ride Lot: 2017-2018
Domestic garage enabling work: 2016-2021
South Deck replacement: 2021-2024
North Deck replacement: 2024-2027
Plane Train people-mover turn-back extension (Phase 1): 2017-2019
[/icon_box]
SUPPORT FACILITIES
Support facilities are critical to ATL's daily operation and often go unnoticed by passengers. The Airport's fire stations provide daily life safety services and are essential for maintaining the Airport's operating certificates. ATL will continue to renew and replace these facilities over the course of the ATLNext program. The replacement of Fire Station 40 will take place early in the program with the new LEED-certified facility due to be operational in 2017. ATL will also undertake a project to relocate and update the staging locations for the commercial vehicles and taxis that service the airport. These new facilities will reduce congestion on the roadways and improve customer service. In anticipation of the new 6th runway and Concourse G the airport maintenance facilities will be consolidated and relocated along with the Gate Gourmet and Delta Air Lines Cargo operations.
TIMELINE BREAKDOWN
Fire station #40: 2017-2018
Building renewal/replacement: 2016-2035
Airport maintenance complex consolidation: 2022-2027